In the first part of our series on holiday greetings in the workplace, we focused on why it's important to know your audience. Next, we explored why it helps to do your holiday homework and know your company's policies, in addition to learning about the various holidays themselves. Now we are going to put it all together and see how this might work in a real-life scenario.
This is Martin.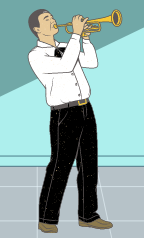 Martin owns a plumbing equipment company in a town called Hilltop. Among Martin's employees are immigrants from three different countries. Although many of Martin's customers are based locally, his online store generates sales nation-wide. Martin also frequently interacts with a number of overseas suppliers. Outside of his work, Martin plays the trumpet in the Hilltop Community Band and has attended the same church since childhood.
As a business owner, Martin sets his own holiday policies.
Over the years, Martin has found that one type of holiday messaging doesn't work for all of his business contacts. He uses different kinds of greetings and messages, depending on his audience.
Starting at the end of November, Martin offers a holiday discount. He advertises this discount on his website, through his email list, and in the local print newspapers. Not all of Martin's customers are celebrating holidays at this time of the year, but no one complains. The advertisements aren't directed at them personally, and almost every business runs similar ads at this time of the year. Besides, the customers like the discounts.
In the past, Martin would give his employees a Christmas bonus every December. As times changed — and as Martin's pool of employees became more diverse — he started calling it a year-end bonus. Martin doesn't want to make any of his employees feel uncomfortable by using holiday-related language when he pays the bonuses.

In a similar manner, instead of a holiday party, Martin throws an "ugly sweaters and silly hats party" for his employees every December. Some employees wear holiday-themed sweaters or hats, but some make other choices. This way, everyone feels comfortable participating.
In his emails to his overseas suppliers, Martin notifies them that his business "will be closed on December 23-25 and again from December 31-January 2nd due to the holidays." Here, the main point is for the suppliers to be aware of the reason why the business is closed. Otherwise, they might assume there is some kind of problem.
Martin's holiday messages in the community
As a member of the Hilltop Community Band, Martin helps promote their annual Winter Holiday Concert. The posters and online advertisements for this concert highlight the fact that there will be musical selections for "Christmas, Hanukkah, and Kwanzaa" in addition to "winter classics."
Meanwhile, Martin's church has joined with four other local churches to collect Christmas gifts and food baskets for needy families in the community. Each of these comes with a handmade Christmas card with a greeting that is specific to that one holiday.
Martin's story shows how holiday messaging can be adapted to fit different contexts. Of course, each individual's situation is different, but hopefully this example can help you get started.
We are sorry that this post was not useful for you!
Let us improve this post!
Tell us how we can improve this post?