In 2003, the way the world structured CVs and resumes changed with the launch of the professional networking service, LinkedIn, where job seekers post their profiles and CVs, and employees post job adverts.
The first thing you see when you go to someone's LinkedIn profile is the 'About' section, which is a summary of the person's key achievements or the experience they think they can offer. Also, this summary now typically appears at the top of CVs written by native-English speakers.
The aim of the summary is to give the reader the information they need to decide whether it's necessary to read the rest of a person's CV or the rest of their profile on LinkedIn. Employers routinely get thousands of CVs from candidates seeking the same job – 1000 applications or more for the same job. Having a well-written summary can considerably boost the chances that your CV will be read, and thus, of you being placed on a short list of possible candidates for interview.
Therefore, this summary is a key part of you getting a job. It is possibly the most important text that you will write to enhance your career.
What personal details should I include?
Include your first name, second name, email address, cell phone number, and nationality. (optional: your age, gender, marital status.)
Email address: preferably one that contains your name (e.g., jobloggs@gmail.com, rather than, for instance, teddy91@gmail.com).
A telephone number: the idea is to make it as simple as possible for a prospective employer to call you.
Your nationality: this may be important for an employer in terms of visas and work permits.
This information only occupies three lines (see below), although in fact lines 2 and 3 could be combined into one line.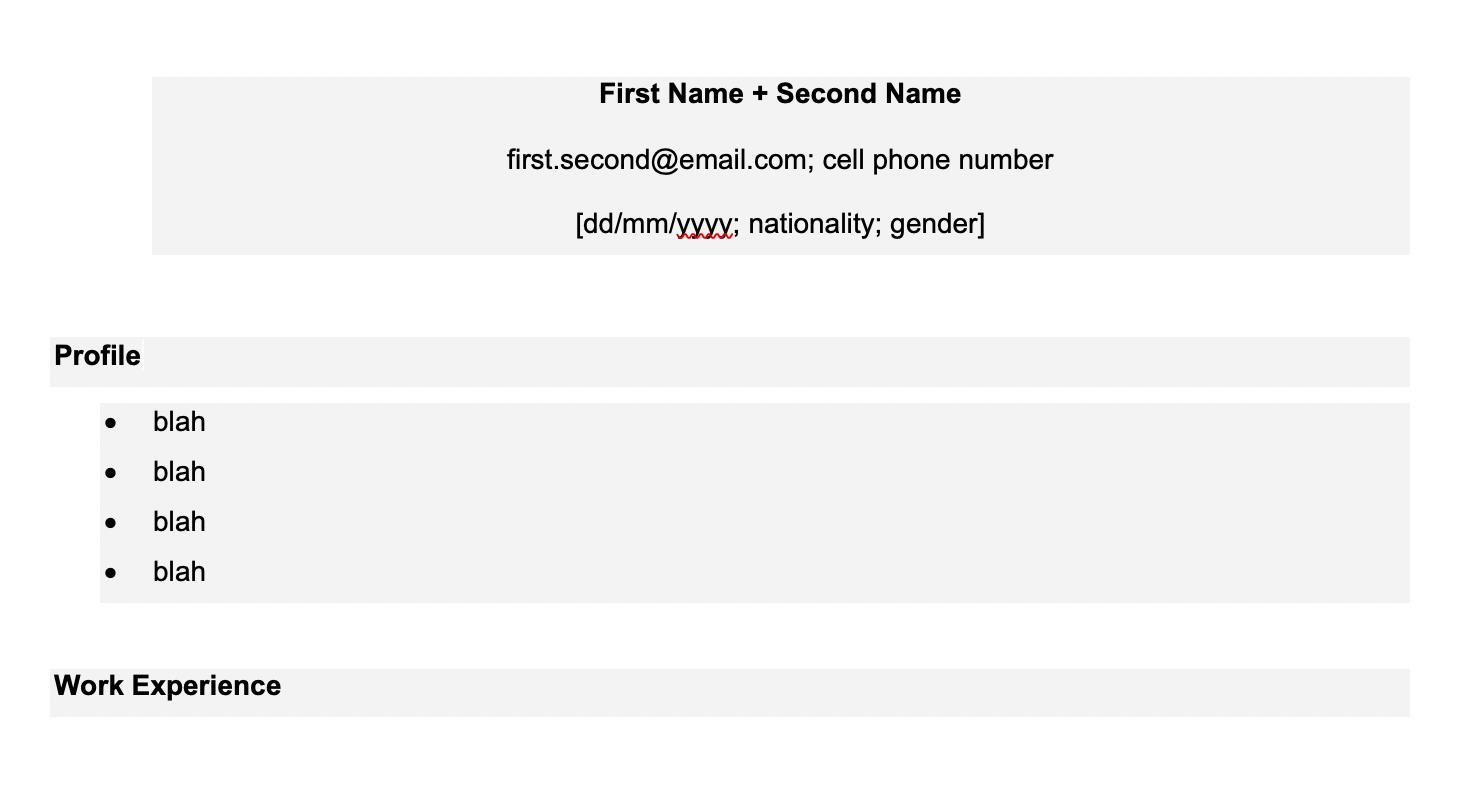 In the above example:
the word 'CV', 'curriculum vitae' or 'resume' does not appear – this is because it is obvious that the document is a CV.
first name = the name you were given by your parents (e.g., Kevin); second name = your family name (e.g., Hart)
gender – by law, you do not need to add your gender; this is to avoid sex discrimination. You may feel it is useful to add it if it is not clear from your name what gender you are and you are not providing a photo. The only reason for doing this is to avoid confusion in telephone interviews when the interviewer may not be sure if they are going to be talking to a man or a woman. However, for reasons of solidarity with discriminated groups, women and older people, there is no need to specify your age, gender or marital status.
there are no indications of Skype numbers, Twitter accounts, etc. – The idea is to keep your CV as clean as possible, with no non-essential information.
there is no photo – In many English-speaking countries, the philosophy is that an employer should not make their decision to hire you on the basis of the way you look. Also, many people are discriminated against simply due to their appearance – particularly if this indicates that they are part of a specific ethnic group or religion. However, it is clearly your decision as to whether you show a photo.

Where should my profile be located?
Your profile should go immediately under your personal details. It is typically followed either by 'Work Experience' or 'Education', depending on whether you are still at college/university or not.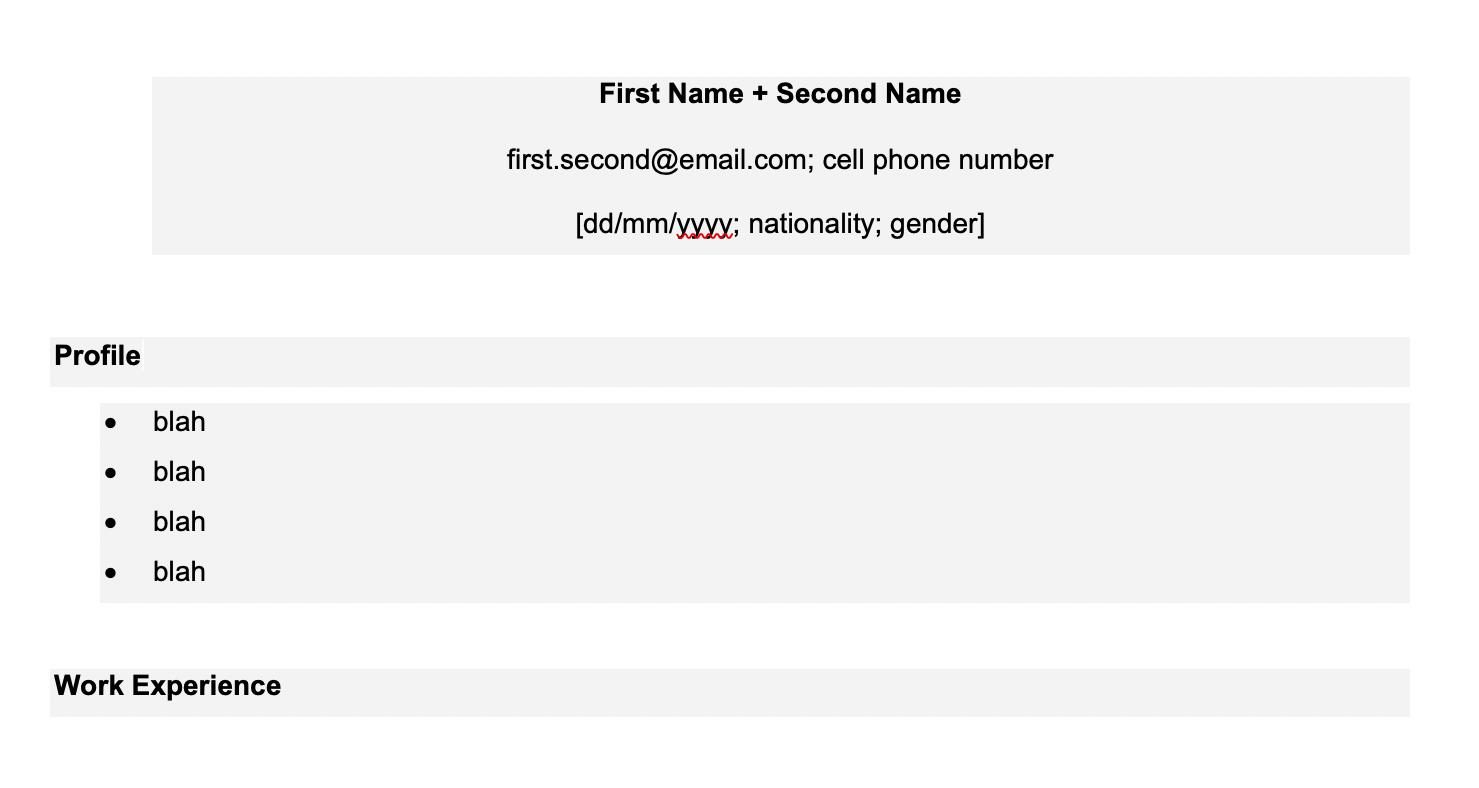 What should I include in my profile?
Whether you are writing a profile for a CV or an About section for LinkedIn, your aim presumably is to find a job. So:
identify the exact kind of job you want
go to the 'Work for us' sections on the sites of institutes/companies that offer that kind of job
read the descriptions of the jobs offered, and note down the key experiences and skills that are required
think of how your experience and skills match the ones required by the institute/company
try to identify four or five relevant experiences and skills
Now, following on from Point 5 above, write four or five sentences that clearly show you have these experiences and skills.

How should my 'About' section on LinkedIn look?
There are several variations on the style used by LinkedIn users. However, here's an example:
About

Project Leader at ABC | UAVs | Master's in Aeronautical Engineering

I have been working in the Aeronautics sector for over five years in a variety of contexts, which include R&D, modeling and simulation of low-cost UAVs (drones) for recreational use, and team training.

I have a strong background in nano-electronics and designing ground-based controllers.

I have recently branched out into working on reducing the energy requirements for the UAVs using battery elimination circuitry, including micro-controller units.

How should the profile on my CV look?
You could use exactly the same profile as in the LinkedIn version, but a more targeted and succinct version is:
Position sought: Designer of UAVs for rescue operations.

Current position: Since 2016, project leader at ABC. ABC work in the aeronautics sector. Working on reducing the energy requirements for UAVs using battery elimination circuitry, including micro-controller units.

Tasks: R&D, modeling and simulation of low-cost UAVs (drones) for recreational use, team training.

Background: Nano-electronics, design of ground-based controllers, degree in engineering, Master's in Aeronautical Engineering. English level: C1 (advanced).
The benefit of the above profile is that the reader is immediately clear what kind of position you are ideally looking for (re: Position sought). Obviously, if you are replying to an advert for a job position, then you can delete this line. By dividing the profile into sections (generally three minimum, five maximum), you help the reader find the information that they are interested in.
Notes:
The profile is full of keywords. Your CV may be read by a software application that has been trained to look for certain keywords. These keywords should be the ones you found in the 'Work for us' section of the website of the institute or company where you want to work.
There are no personal pronouns and very few verbs (e.g., 'designer' vs 'I design'). This style is typical of a CV, whereas full sentences tend to be used for the LinkedIn 'About'.
Each sentence begins with a capital letter and ends with a full stop. There is white space between each section.
Conclusion
Recruiters and HR staffing personnel receive 100-400+ CVs a day if they have posted a job on the open market. Having a good summary will ensure that your CV does not immediately end up in the trash.

Having a good LinkedIn 'About' section, full of relevant keywords, will help potential employers to find you.

Given the importance of your summary/About profile, I suggest you have it checked by an experienced native English speaker. If you don't have access to such a person, find similar people to yourself on LinkedIn and analyze the way that they have written their About section. Follow their style as closely as possible, and simply change their keywords to your keywords. On LinkedIn, people often upload their CVs, so again, you can check someone else's CV who works/studies in a field close to yours and follow their style.
We are sorry that this post was not useful for you!
Let us improve this post!
Tell us how we can improve this post?