We've made it super simple for you to save 20% on every purchase of TextRanch credit packages. Just follow these 5 easy steps:
1. Select and copy the coupon code below:
TOGETHER20
2. Choose a credit package on the checkout page when you submit some text, or directly on our Pricing Page.
3. Once you have picked the credit package you want, select a payment method and fill out your details.
4. Click the Enter Coupon Code link found just below the payment details section.

5. Paste the coupon code from above in the text area then press the Redeem button. You will see that the price is updated to show the discount has been applied. When you are sure the price is correct, click Submit Now.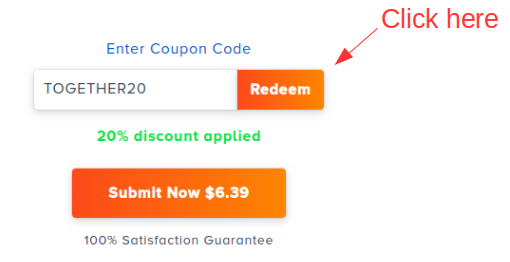 FAQs
I keep getting a message that the code is not valid. Why can't I use the coupon code?
Please make sure the code is spelled correctly: TOGETHER20. If the problem persists, please contact Lilly for help by writing to lilly@textranch.com
How do I apply the coupon code when paying for the Document service?
Unfortunately, at this time the coupon code is only valid for credit packages that can be used with our Quick Text service.
We are sorry that this post was not useful for you!
Let us improve this post!
Tell us how we can improve this post?